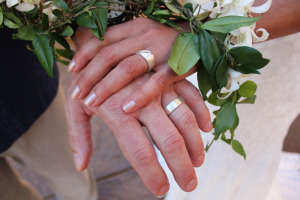 When my husband and I got engaged it was not your normal engagement, there was no romantic gesture, there was no on one knee and there definitely was no ring in a little box – however it was the most meaningful engagement I had ever known. Let me paint the scene, it was Christmas eve and we were at my aunt's house, just finished dinner and were in the midst of opening presents. My husband (boyfriend at the time) had been enjoying many a libation throughout the night and when he gets liquored up he gets extremely loving and feels the need to gush. So, we had just handed out our gifts which were framed photographs of us with our dogs and everybody loved them. There was a comment made by my niece along the lines of "this could be your engagement photo", which of course was followed by "when are you getting married" given we had been dating for five years at that point.  Well, the convenient part of this story is that we had a family trip to Hawaii planned for the following October and so my husband asked "how about in Hawaii? Would you guys like that?" and then turned to me and asked "is that okay?". Obviously I was going to say yes, but the way in which he looked at me with such excitement really sealed the deal.
On the way home that night we called a few friends and my husband's mother. We celebrated all the way home and couldn't wait to share the news with everybody. We went to bed that night and the next morning I had a few texts messages and phone calls wondering if my husband had remembered the engagement given how much wine he had consumed. I asked my husband while he was strewn about on the living room floor in the throws of a mean wine induced hangover, and his answer was a weak "yeah, I do". And so that was it, we were officially engaged! Although there was one more confirmation – my husband's mom. You see when we called her on Christmas eve, it was midnight and she had been asleep for a few hours, when she woke up the next morning she vaguely remembered a dream about a phone call announcing her son's engagement. She waited all day to confirm, as she wanted all of the nieces, nephews and my husband's sisters there when she did. We received a sassy phone call from our teenage niece asking "if her grandma was crazy" because there was no way that the phone call could have been real (especially since my husband had been very adamantly against marriage and had made that very clear to all of his friends and family). There were lots of screams and cheers on the phone when she heard us say it was a true story.
Definitely not your traditional engagement story, which leads me to the true topic of this blog – how to begin planning a non-traditional wedding? Who says that you have to have a ring when you get engaged? Who says that you have to even have an engagement ring at all? Isn't it enough to know that you're going to marry the love of your life, do you really need a ring to announce to the world that it's happening at some future date?  You know when that date is and you know that you are over the moon excited, so why demand a ring ahead of time? Wouldn't it be more fun to pick out your own ring and know that you will wear it everyday for the rest of your life? Men may have the best of intentions when selecting the ring to use to ask you to marry him but is it the ring that you want to wear when you're living your life together?
In addition to all the traditional expectations of an engagement ring, then there's going to all the boring, traditional jewelry stores where you are looking at the same ring that hundreds or even thousands of women just looked at. Who says you should have the same ring as your neighbor or coworker? Shouldn't the ring that symbolizes your marriage be meaningful and unique? Why not have a ring made specifically for you and your husband? There are a plethora of reasons why you should have your ring made – it's custom, it's often cheaper than chain jewelry stores and you can make it as "you" as you want. My husband and I went to a silversmith in downtown Denver to have our wedding rings made. We are very active people, mountain biking, hiking, running, yoga, etc., and we wanted to make sure our rings were going to be comfortable, functional and custom – and that's exactly what we got! They sized them a few times, made sure we were happy with the way they looked and fit as well as re-made (at no additional cost) my husbands when we found a blemish. It was such a pleasant experience and we knew that we had two completely unique rings that meant so much more than a ring from one of those other places. This is also a very budget friendly option for couples that are not wanting to break the bank on their nuptials but still have beautiful rings to commemorate such a meaningful day.
Sorry…I'm not sorry, but I do have to give a small shout out to Gusterman Silversmiths in Denver who made our wedding rings. They truly were a pleasure to work with and made the ring buying experience one of ease and enjoyment. We will definitely be back for future jewelry purchases.
Happy planning…stay tuned for more insights on budget wedding planning in Colorado!
MC