Arapahoe Basin's Black Mountain Lodge is the perfect setting for your wedding or next function.
A-Basin, "The legend," is located in Summit County, on the Continental Divide. It boasts one of the longest ski seasons in the U.S., and has plenty of activities during the summer months. A great place for Yoga on the Mountain, wildflower hikes, and spectacular brunch and dinners.
Black Mountain Lodge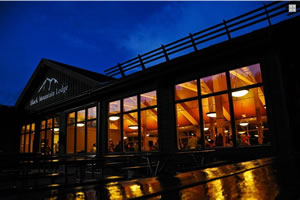 Inside the mid-mountain lodge, high vaulted ceilings supported by immense raw cut timbers rise above the spacious dining room where towering windows offer you and your guests incomparable views of the Continental Divide.
Outside, the lodge's spacious deck extends above the mountain terrain and is the perfect setting for you and your guests to enjoy light hors d'oeuvre or for you to hold your entire wedding ceremony – all at 11,550 feet above sea level. Black Mountain Lodge can support up to 200 guests.
If you're planning a wedding, the ceremony site at Arapahoe Basin can't be beat! The south facing deck off of the Black Mountain Lodge will make your day spectacular.

Contact Info:
Click here for more information on hosting an event or wedding at Arapahoe Basin.