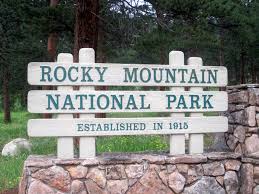 Rocky Mountain National Park is a perfect place to begin your lives together. Lush forests, high alpine meadows filled with colorful wildflowers, herds of elk,  soaring jagged cliffs, snowcapped peaks and picturesque valleys can be the backdrop for your Colorado Mountain wedding ceremony.
The maximum size for any ceremony is 100 people. For weddings, this includes the wedding party, children, officiant and photographer. There are limited sites that will accommodate these larger ceremonies and these should be scheduled as soon as possible through the Concessions Office. Not all party sizes will be permitted in all areas. Size limits vary depending on parking, time of year, and location of site.
Ceremonies in Rocky Mountain National Park are authorized through a Special Use Permit that requires a non-refundable administrative fee of $150. Normal park entrance fees apply for all vehicles associated with the ceremony.
Click here for more information about holding your wedding in Rocky Mountain National Park.