Weddings in Vail virtually guarantee spectacular scenery,  elegant lodging, and world-class cuisine and activities. Located just over Vail Pass, and only about 90 minutes from Denver, Vail is easily accessible, and can accommodate everything from a small, intimate wedding party, to a large, lavish wedding event. And you don't need to look far to entertain your guests — Vail is home to world class skiing, golf, hiking, biking and fly fishing, not to mention a shopping experience that will satisfy even the most discriminating tastes. Vail has everything brides and grooms need to plan the perfect Colorado mountain wedding.
Our Favorite Wedding Venues in Vail, Colorado
• Wedding Venues in the Town of Vail
• Vail Ski Resort Wedding Venues
---
Town of Vail Wedding Venues
---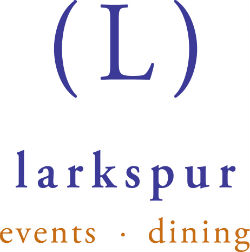 Larkspur Events & Dining
458 Vail Valley Dr
Vail, CO 81657
970-754-8050
www.larkspurvail.com
Just steps from Vail Mountain, wedding dreams come true
(10 – 500 Guests) Looking for a picturesque setting for the next chapter in your love story? If your wedding-day vision includes stunning mountain views, inspired culinary far and spot-on service, then Larkspur in Vail can make your dream a reality. We've been creating picture-perfect wedding-day memories since 1999.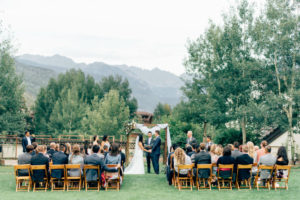 The inspiration for each of our events comes from our unique Couples. We provide everything necessary to create an unparalleled wedding event – an elegant venue, stunning mountain views, seasonal & inspired cuisine and generous hospitality. Whether you're planning a wedding ceremony & reception, rehearsal dinner, welcome celebration, bridal shower or farewell brunch, our skilled event team will support you every step of the way in creating the extraordinary event you have imagined.
Our experienced culinary team, led by internationally trained chef Thomas Salamunovich, prides itself in creating authentic fare using fresh, seasonal ingredients. We will work with you to create a menu for your special event that reflects your unique preferences and the culinary delights of the season.
Our beautiful venue is fully customizable to transform into whatever vision you may have for your dream event. We look forward to sharing our passion for great food and hospitality and will save a spot at our table for you!
Learn More about Larkspur Events & Dining: Instagram | Facebook | Pinterest

---



Piney River Ranch
700 Red Sandstone Road
Vail, Colorado
303.905.4439
http://www.pineyriverranch.com
One of the newest wedding venues in the Vail Valley, Piney River Ranch is just 11 miles from Vail, CO. Say your vows  with the spectacular Piney Lake in the background. With two pavilions, a full-service restaurant and bar, and accommodations for your wedding guests, Piney River Ranch can provide a rustic, Colorado wedding experience.
---
Arrabelle at Vail Square
675 Lionshead Pl
Vail, CO 81657
970-429-5045
Arrabelle Vail
The Staff at The Arrabelle at Vail Square, takes pride in being an Iconic Weddings destination. They will manage all the details to make your wedding day unforgettable. Their event planners will work with you to orchestrate every component of your wedding, so you and your guests can enjoy the luxury and simplicity of your dream wedding.
---
Sonnenalp Resort
20 Vail Road
Vail, Colorado 81657
970-479-5417
http://www.sonnenalpweddings.com
The Sonnenalp is conveniently located on Gore Creek, directly across from the Vail Chapel and two blocks from Vail Mountain. The Sonnenalp will cater to each and every guests' needs, and we will make certain that your guests depart with unforgettable memories of your romantic wedding in Vail, Colorado.
---
The Four Seasons, Vail
One Vail Road
Vail, Colorado 81657
http://www.fourseasons.com/vail/
Whether you opt for the spacious Bighorn Ballroom or choose the intimacy of the Fulford Room, mountain views and thoughtful Four Seasons touches elevate your wedding.
---
Antlers at Vail
680 West Lionshead Circle
Vail, Colorado 81657
970-476-2471
antlersvail.com
The Antlers at Vail will be honored to host your family and friends in our luxurious condominiums with convenient access to everything Vail has to offer. Relax together before the big day in a spacious four-bedroom bridal suite unit or by our beautifully renovated pool, hot tubs, and saunas overlooking Gore Creek. The Antlers is the perfect destination for your rehearsal dinner, ceremony, reception, and send-off brunch.
---
Vail Cascade
1300 Westhaven Drive
Vail, Colorado 81657
http://www.vailcascade.com/index.php?section=weddings
Spectacular views. Romantic elegance. Uncompromising service. At Vail Cascade it all begins with the dream of a perfect wedding, tailored to your every wish. Vail Cascade offers wedding guests a variety of comfortable guest rooms, spacious condominiums and home rentals, as well as a number of relaxing amenities.
---
The Wedding Island at the Vail Golf Club
1775 Sunburst Drive
Vail, CO
(970) 479-2279
Vail Golf Club
Vail's newly-renovated, mountain-style, Golf Club is the perfect venue for your Colorado wedding & reception. The dramatic mountains of the Gore Range create a
spectacular backdrop for rehearsal dinners, receptions and wedding ceremonies.
---
Tivoli in Vail Village
386 Hanson Ranch Road
Vail, CO 81657
970-368-2810
Tivoli in Vail Village
The Tivoli Lodge, in Vail Village, provides a secluded yet accessible location for your Vail Colorado wedding. Adjacent to the Tivoli Gardens and with expansive views of the mountains, it provides the perfect location for all to enjoy your special day. Your family, friends, and guests will be close to the many rehearsal dinner and Vail wedding reception sites that are sure to make your day a memorable one.
---
Vail Marriott Mountain Resort
715 West Lionshead Circle
Vail Colorado 81657
970-476-4444
Vail Marriott
The Vail Marriott Mountain Resort & Spa is the perfect location to host your Colorado mountain wedding.  The resort, just steps away from Vail Mountain, is one of the closest to the Eagle-Bahn gondola, the fastest way to the top of the mountain.  It's a beautiful setting for your wedding, any season, and any time of year.
---
Manor Vail Lodge
595 East Vail Valley Drive
Vail, CO 81657
http://www.manorvail.com/colorado-mountain-weddings.php
Unpretentious yet sophisticated, with breathtaking views of the majestic mountain peaks. Manor Vail offers options for wedding ceremonies, receptions, luncheons, bachelorette parties, honeymoons and rehearsal dinners. Celebrate your love for one another at Manor Vail Lodge.
---
Donovon Pavilion
1600 South Frontage Rd
Vail, Colorado 81657
970.477.3699
http://www.donovanpavilion.com/services
Nearly 250 guests can be accommodated in this gracious 5,200 square foot Pavilion. Another 100 guests can be easily seated on the 3,000 square foot terrace overlooking Gore Creek. Smaller groups will find themselves comfortably and intimately at home. Parking is convenient and plentiful on site. You can be flexible – have your ceremony here in the lodge, out on the grounds or in one of the chapels in the valley
---
Vail Ski Resort Wedding Venues
Lodging, Catering, Venues…even transportation – everything you need for the perfect, Colorado Rocky Mountain Wedding is available when you book your wedding at Vail Ski Resort.  Venues and ceremony sites with spectacular views of the Gore Range, luxurious, elegant accommodations, world class amenitites, and of course great skiing and golf – everything necessary for the perfect, Colorado mountain wedding for you and your guests.
Click here for more information on Weddings at Vail Ski Resort.
The Wedding Deck is the perfect touch to make your wedding stand out from the rest. A stone outdoor amphitheater with breathtaking views of the surrounding peaks, with seating for approximately 180 people. The deck is located at the top of Vail Mountain, only a short walk from the top of the Eagle Bahn Gondola. The wedding deck is available late June through early September. Contact Vail Group Sales to reserve your wedding date.
Several of Vail Mountain's venues are available for receptions and rehearsals. All catering is done on-mountain. With outdoor decks and patio areas, our venues are the perfect place for an outdoor cocktail hour and breathtaking sunsets. Views of the surrounding mountain ranges are sure to impress any guest! The following venues are available for buyouts in the summer and winter:
• Game Creek Restaurant: Seats up to 150 ppl for plated dinner, 200 ppl for cocktail reception.
• Game Creek Bistro: Seats up to 60 ppl for plated dinner, 75 ppl for cocktail reception.
• The Marketplace at Eagle's Nest: Seats up to 300 ppl for plated dinner or cocktail reception.
• Vintner's at Eagle's Nest: Seats up to 50 ppl for plated dinner.
• Wildwood Smokehouse*: Seats up to 100 ppl for plated dinner or cocktail reception.
• Eagle's Nest complex: Buyouts and tented events are available for larger weddings.
*Denotes venues that are only available in the summer.
Click here for more information on iconic Weddings at Vail Ski Resort.