Rafting Trips in Breckenridge, Buena Vista, Frisco and Idaho Springs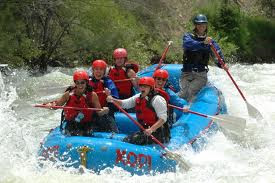 Whitewater rafting in Colorado is a thrill that can't be beat. From flat, scenic float trips to heart-stopping Colorado whitewater rafting trips with crashing waves and heart-pumping paddling, there is something for every experience and comfort level. All of the outfitters listed below have experienced guides that can't wait to make your day on the river something special.
Most of the river rafting companies run raft trips on the Colorado River, Clear Creek, and the Arkansas River, which includes Brown Canyon and Numbers. You should also think about taking your wedding or bridal party Stand Up Paddle Boarding, the latest rage to hit Summit County.
---
Performance Tours Whitewater Rafting
Pioneer Sports:
842 N. Summit Blvd.
Frisco, CO (next to Walmart)
800-328-7238
http://www.performancetours.com/
Exciting, Affordable and Fun whitewater rafting adventures for all ages and ability levels on 5 of Colorado's most spectacular rivers! Exceptional Quality – Award Winning Service – Competitive Prices: Most companies give you one or two – at Performance Tours you get all 3! Don't gamble on your rafting adventure – Go for the sure thing and choose Colorado's experienced and trusted whitewater professionals! One of the most experienced guide crews in Colorado!
---
Breckenridge Whitewater Rafting
505 S Main St.
Breckenridge, CO 80424
(800) 370-0581
http://www.breckenridgewhitewater.com
If you're looking for nothing less than the best Colorado white water rafting and zipline adventures, your search is over. Breckenridge Whitewater Rafting & Zipline offers the highest quality outdoor adventure packages in the Rocky Mountain region.
---

Colorado Adventure Center
210 North Main Street
Breckenridge, Colorado 80424
800.808.0357
Colorado Adventure Center
---
Wilderness Aware Rafting
P.O. Box 1550 WS,
Buena Vista, CO 81211
800.462.7238
http://www.inaraft.com
In Breckenridge, rafting is almost as popular as skiing. And over the years, Breckenridge, CO summer visitors have helped us win "Colorado's Company of the Year" on two separate occasions. But what makes us happiest is the number of repeat guests we have, many of whom tell us their trip is the high point of their Breckenridge vacation.