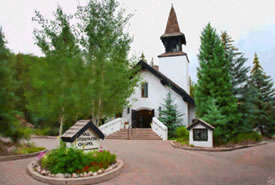 Many Colorado brides and grooms are seeking a traditional wedding in the mountains, and that includes performing their wedding ceremony in a church or chapel. Use our Mountain Wedding Church & Chapel Guide below to find a religious ceremony location. When planning your  wedding, you'll want to be flexible on dates and times for your ceremony; many of the wedding chapels and churces listed below host several weddings per day to accommondate demand.
Please contact the wedding venues below to learn about requirements, restrictions and available dates, and keep in mind that many of these locations book up years in advance.
Colorado Mountain Wedding Churches & Chapels
[tab name="Central"]
Churches & Chapels in Breckenridge, Frisco, Dillon & Silverthorne, CO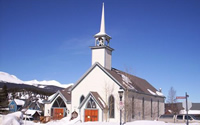 Father Dyer United Methodist Church
310 Wellington Road
Breckenridge, CO 80424
Capacity: appox. 225 guests
Father Dyer Church is listed in the National Historic Registry and is a perfect worship space to celebrate the rite of matrimony. In addition to the simple elegance of the Sanctuary, we offer modern features, and Father Dyer provides each wedding with its very own Wedding Facilitator to ensure a seamless worship ceremony.
---
St. Mary's
PO Box 23109,
89 Smith Ranch Rd.
Silverthorne, Colorado 80498
Since 1881, our parish has embraced all of Christ's faithful residing in Summit County, residents and visitors alike, and provided them with a place to celebrate the Sacraments, gather in fellowship, pray, hear the word of God, and learn the truths of the faith
---
Summit County Church of Christ
1002 South 7th Avenue
Frisco, Colorado 80443
---
[/tab] [tab name="Vail Valley"]
Vail & Beaver Creek Wedding Chapels & Churches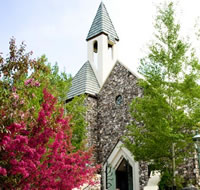 The Chapel at Beaver Creek
33 Elk Track
Beaver Creek, Colorado
Beaver Creek Chapel
The natural beauty that surrounds the chapel, combined with the simple elegance of the chapel building, makes it a popular venue for marriage ceremonies.
---
Calvary Chapel Vail Valley
31621 Highway 6
Edwards, CO 81632
http://www.ccvv.org/
---
St. Clair of Assisi Parish
31622 Highway 6
Edwards, CO 81632
http://www.stclareparish.com/marriage.html
---
St. Patricks Catholic Church
6 Pine Street
Minturn, Colorado, 81645
http://www.saintpatrickminturn.com/default.html
Congratulations on your decision to marry! As a parish community, we look forward to assisting you in preparing for marriage. Please contact Jeanmarie Angarola at (970) 827-9559 at least eight months in advance of the planned wedding date. The Archdiocese of Denver requires a marriage preparation course prior to the wedding to prepare engaged couples for the life long commitment in the sacrament of marriage.
---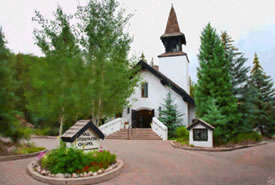 Vail Interfaith Chapel
19 Vail Road
Vail, Colorado 81657
http://vailchapel.com/
Surrounded by luxurious hotels, elegant homes and spectacular mountain scenery, the Vail Interfaith Chapel is one of the true wonders of Vail. Since 1968 it has been the spiritual heart of this community and a sacred place where individuals, couples and families have celebrated life's most meaningful moments.
---
Trinity Baptist Church
90 Lariat Loop
Edwards, CO 81632
http://www.trinityvail.com/home.html
---
B'nai Vail Congregation
19 Vail Road
Vail, Colorado 81657
http://www.bnaivail.org/
[/tab] [tab name="North Central"]
Wedding Churches & Chapels in Grand Lake, Granby, Steamboat and Winter Park, CO
Catholic Churches of Grand & Jackson Counties
P.O. Box 2029
Granby, CO 80446
http://www.grandcatholic.com/
---
Anchor Way Baptist Church
40650 Anchor Way
Steamboat Springs, CO
http://www.anchorway.com/
---
Concordia Lutheran Church
Maple St. & Amethyst Dr.
---
First Baptist Church
1/4 Mi. N. on Elk River Rd.
---
Holy Name Catholic Church
504 Oak St., PO Box 774198
Steamboat Springs, CO 80477
---
St. Paul's Episcopal Church
9th & Oak Street
---
Steamboat Church of Christ
39820 W. US Hwy. 40
---
United Methodist
8th & Oak Street
[/tab] [tab name="Front Range"]
Wedding Chapels & Churches in Golden, CO
Lookout Mountain Wedding Chapel
166 S Lookout Mountain Rd
Golden, CO 80401
---
Wedding Bell Chapel
Heritage Square
18301 W. Colfax Ave.
annie@weddingbellchapel.org
This adorable, small chapel is available for weddings and parties. It is located in Heritage Square in Golden, Colorado.
---
Wedding Chapels in Morrison, CO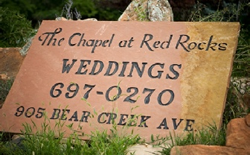 The Chapel at Red Rocks
905 Bear Creek Ave
Morrison, CO 80465
http://www.chapelatredrocks.com/
The Chapel at Red Rocks devotes itself to helping create lifelong memories of your wedding day by offering an incredible setting, coupled with a knowledgeable staff whose aim is to give your special day the attention it deserves. Our nondenominational chapel is designed and coordinated to provide a bride and groom with the service and care they need to start their life together.
---
[/tab] [end_tabset]